Myths and Facts About Infertility
Posted on
October 13, 2016
by
MD
There's a lot of misinformation about infertility out there these days. Here are some common myths and facts to help you better understand the facts surrounding infertility and fertility treatments.
Myth: Infertility is rare
Fact: Infertility happens much more than you may realize. According to the Centers for Disease Control and Prevention, 12.3 percent of women between the ages of 18 and 44 will have trouble conceiving or sustaining a pregnancy.
Myth: Your only fertility treatment options include IVF and blastocyst culture.
Fact: You may think treatments at a New York fertility clinic are your only chance to become pregnant. In truth, the majority of infertility cases are treated with conventional therapies like drug treatment or surgical repairs. Very few people actually end up needing fertility treatment.
Myth: Fertility treatment options are too expensive.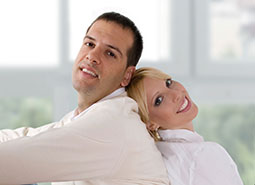 Fact: While some fertility treatments can be expensive, in truth, the cost of fertility treatments vary widely. Many insurance companies provide coverage for specific types of treatments. And our fertility clinic NYC is happy to help couples manage the investment to alleviate any stress associated with financial barriers. We advise couples of their options, but ultimately the choice is a highly personal decision.
Myth: Only women are affected by infertility.
Fact: Men, as well as women, can be affected by infertility. If a couple is having difficulty conceiving, it's important for both partners to be evaluated at fertility clinics in New York City. Fertility issues can be divided into thirds: one third is due to the female partner, one third to the male partner and one third results from fertility problems in both partners. That's why both must be examined to determine where the problem may exist.
Myth: Woman can easily have babies in their 40s.
Fact: Women can and do have babies in their 40s, but it's much easier to get pregnant at younger age. According to the American Society of Reproductive Medicine, women have the best chance of becoming pregnant in their 20s. Fertility declines into the 30s, especially after the age of 35. It may also take longer for older woman to become pregnant. One study found that women between 20-24 have and 86 percent chance of becoming pregnant within of year of beginning to try. The chances for women between 30 and 34 decreases to 63 percent. Infertility affects thousands of couples who may or may not have all the facts about the condition. Determining what's a myth and what's a fact is the best place to start when considering treatment options.